Deprecated
: Function eregi() is deprecated in
/home/oakislan/public_html/includes/pathway.php
on line
280
Deprecated
: Function eregi() is deprecated in
/home/oakislan/public_html/includes/pathway.php
on line
280
Deprecated
: Function eregi() is deprecated in
/home/oakislan/public_html/includes/sef.php
on line
393
Deprecated
: Function eregi() is deprecated in
/home/oakislan/public_html/includes/pathway.php
on line
280
Deprecated
: Function eregi() is deprecated in
/home/oakislan/public_html/includes/sef.php
on line
393
Deprecated
: Function eregi() is deprecated in
/home/oakislan/public_html/includes/pathway.php
on line
313
Deprecated
: Function eregi() is deprecated in
/home/oakislan/public_html/includes/sef.php
on line
393
Home
News
Latest OI News
Dan Blankenship speaks
Deprecated
: Assigning the return value of new by reference is deprecated in
/home/oakislan/public_html/mambots/content/bot_adsense.php
on line
47
Deprecated
: Assigning the return value of new by reference is deprecated in
/home/oakislan/public_html/mambots/content/d4j_mosimage_ext.php
on line
50

Deprecated: Function ereg() is deprecated in /home/oakislan/public_html/includes/joomla.php on line 3664


For the first time in many years, Dan Blankenship, long time treasure hunter on Oak Island has today given an interview.




A New York based Italian movie company sent Gianni Gallo and Luis Goncalves to produce the piece for Italian television station RAI for a show called Voyager.




Oak Island resident and daughter in law of Dan Blankenship, Garnette stated that to her knowledge this is the first time since the 1960's that a documentary has been made completely on Oak Island.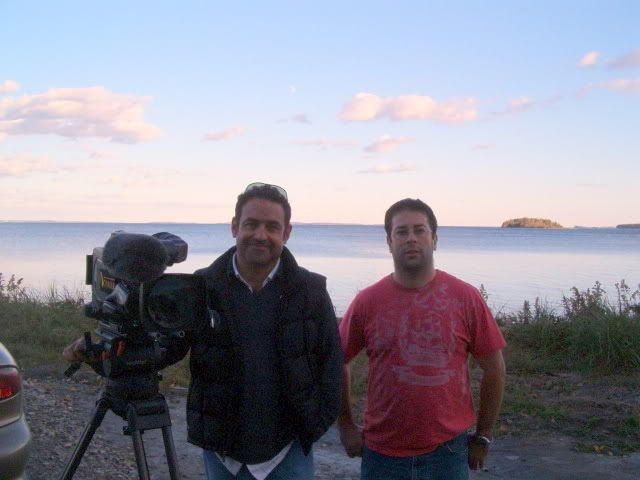 Filmakers Gianni Gallo and Luis Goncalves on Oak Island this weekend
Image courtesy of Garnette Blankenship

This news causes fans of Oak Island to question why, at this stage in his treasure hunting career is Dan willing to discuss his life's work?


Deprecated: Function ereg() is deprecated in /home/oakislan/public_html/includes/joomla.php on line 3664

Deprecated
: Function eregi() is deprecated in
/home/oakislan/public_html/includes/sef.php
on line
393
Deprecated
: Function eregi() is deprecated in
/home/oakislan/public_html/includes/sef.php
on line
393